International Kite Festival, Ahmedabad, 2009, photo gallery
International Kite Festival, Ahmedabad, 2009, photo gallery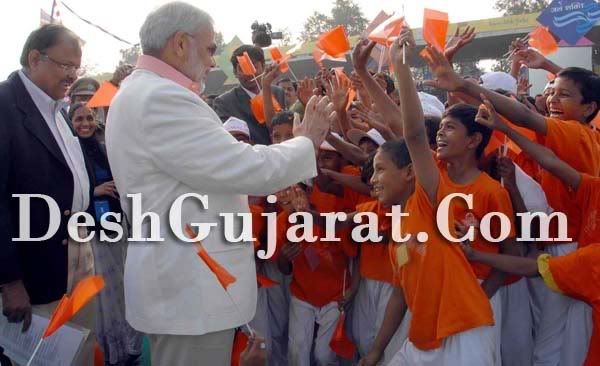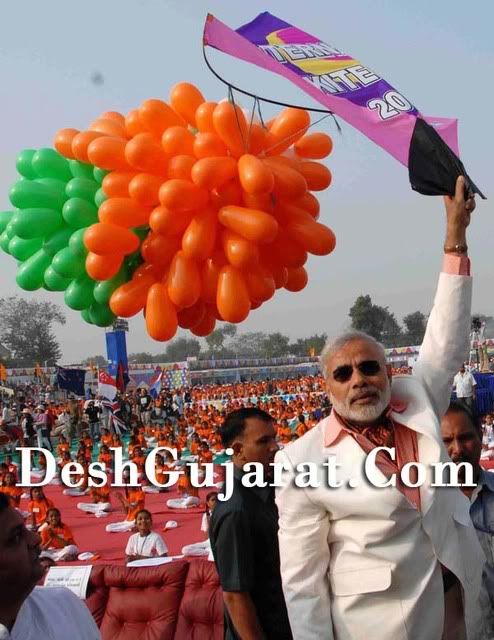 International Kite Festival is organized every year on and before 14th of January in Ahmedabad. Photographs given above are from Ahmedabad's Shahibag Police stadium where the festival has been held this year.
Following is complete detail about IKF-2009
The colors of your imagination would be painted in the sky on the 10th of January, 2009 in Ahmedabad wherein there will be a Spectacular International Kite Flying competition at the Police Stadium, Shahibaug. The Competition would be in 5 different categories like Foreign type painted kite, Foreign type collage work kite. (Cutting and stitching), Miniature kites, Indian fighter kites, Flying foreign painted /collage kites There are 62 international Participates and 72 Domestic Participates. Mr. Jaynarayan Vyas, Minister for state tourism department shall inaugurate the kite competition at 11 am and the competition shall continue till 4pm. Thereafter in the evening at 5pm, Mr. Kamalesh Patel, Chairman Tourism corporation of Gujarat Ltd. shall inaugurate the theme pavilion on Sun kite & Swarnim Gujarat.
The excitement doesn't end over here. On January 11th 2009, International Kite function will be inaugurated(CLICK HERE FOR LIVE WEBCAST TELECAST) wherein Narendra Modi, Chief Minister, Gujarat will be gracing the occasion and His Excellency, the Governor of Gujarat, Shri Nawal Kishore Sharma shall preside over the function. The programme will start with a cultural programme – 'Surya ni Sankranti'. A dance performed by 100 various artists highlighting the relationship between Surya- the Dun God and earth and it shall also portray that Sun god is the ultimate source of life on earth. Also life has nine different forms of art – Navras throughout the day right from the morning till evening which makes Sungod an integral part of Navras. These artists shall portray the Navras and its relevance in form a dance. This programme will end with a song- "Patang no parivaar- jagat chhe patang no parivaar" a composition of Avinash Vyas sung by the famous Gaurang Vyas.
On 12th January 2009, Narendra Modi , Chief Minister, Gujarat shall attend a Gala cultural programme – Sankalp Katha- Gujarat(CLICK HERE FOR LIVE WEBCAST TELECAST) . arranged by Sports, Youth & Cultural Activities department. This programme shall highlight the various facets of Gujarat right from lothal till science today, a story on the achievement of Gujarat right from 2500 BC onwards which would not have been possible without a commitment or a pledge and this event shall display how important the pledge is in our lives to achieve in making golden Gujarat, global Gujarat which is the vision .
Apart from which, there are many live programmes like Kite Painting Competition by Children, Night Kite Flying which would engage people of different nationalities, religions and ages come together to seek out the magnificence of Kites along with a theme pavilion on Sun, Kite & Swarnim Gujarat, adventure sports, food court, craft Bazaar and live kite workshop to make all these three to four days very interesting.
Uttarayan festival Links:
Narendra Modi's Uttarayan Speech 2008(Gujarati Video)
Narendra Modi's Kite Flying Jeep Trip on Uttarayan(Video)
Makarsankranti Uttarayan 2008:Photo Feature of Day.1
Makarsankranti Uttarayan 2008:Photo Feature of Day.2
Apply Safety:Ban Lethal Manja next Uttarayan(Gujarati Text)
Baba Ramdev's Ahmedabad Speech on Uttarayan(Video)