MLA Kalsaria taken out of the assembly on Speaker's order
March 18, 2011
MLA Kalsaria taken out of the assembly on Speaker's order
Gandhinagar, 18 March, 2011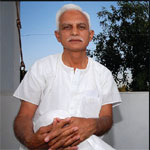 BJP's Mahuva MLA Dr. Kanubhai Kalsaria was taken out of the assembly house today after he came to well to raise Nirma cement plant issue without assembly speaker's permission.
Kalsaria ended his 350 km foot march yesterday in Gandhinagar and had started attending the assembly. His first appearance in assembly during ongoing budget session was welcomed by Congress MLAs with claps yesterday. Today Kalsaria rushed to well just opposite the Speaker's chair to raise Nirma issue. However he was prevented to do that and later the Speaker named him and ordered to take him out. Accordingly he was taken out by marshals of the Speaker without force.
Protesting this, the Congress MLAs started shouting slogans and walked out of the house.
On Minister Dilip Sanghani's Point of order and demand, the Speaker later scolded Congress MLAs for creating disturbance.