"2+0+1+2=5 therefore Modi will go and Congress will get power!"
January 06, 2012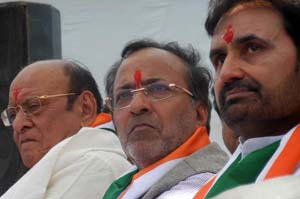 Gohil, Modhwadia, Shankersinh, and Himanshu Vyas with other Congress leaders at Shri Somnath Mandir


By Japan K Pathak, Ahmedabad, 6 January 2012
One of the motives of Gujarat Congress's Sardar Sandesh Yatra seems to proclaim at every possible venue across the state that Narendra Modi era could end in Gujarat in this year itself. After being unsuccessful in capturing power in Gujarat for last nearly two decades, Gujarat Congress needs first to convince the people, and create an air that Modi can be uprooted from throne! And, on this line, they are trying their best to say this loudly, again and again, at various places and with different logic, so that impossible-looking thing can look somewhat possible.
So, on Thursday we heard a completely novel logic, presented by one of the Congress leaders during Sardar Sandesh Yatra, to back his claim that Modi will be out of the power this year itself.
Gujarat Congress leader Himanshu Vyas while speaking at leader of opposition Shaktisinh Gohil's Sardar Sandesh Yatra route public meeting in Junagadh district yesterday said, "year 2012 has 2, 0 , 1 and 2, total of which(2+0+1+2) is '5'. This is the figure matching to our party symbol 'panjo'(a hand with five fingers), and therefore year 2012 is a year of 'panjo' aka Congress, and Narendra Modi's rule will end this year."
Villagers of small town were amused to listen to such logic. Perhaps this was for them only.
Another Gujarat Congress leader Shankersinh Vahgela in his Sardar Sanesh Yatra public meetings, regularly speaks that 2012 ( be hajaar baar) means Modi out( Modi bahaar). He also speaks loudly that 'be hajaar baar naa varsh maa Modi nu baarmu kari daishu' means in year 2012 we will perform the custom of 'baarmu' of Modi.'Baarmu' is religious ceremony that is done on 12th day of death of a Hindu Gujarati person.'
Gujarat Congress President Arjun Modhwadia also regularly speaks nowadays in his public meetings that Narendra Modi will not remain as Gujarat Chief Minister for much longer time. Modhwadia these days in his public rallies claim that Modi's police officers are in jail, and how long they will remain silent? One day, at least one officer will tell that it was Modi who ordered them to perform executions, and that day Modi will go to jail.
The problem with Gujarat Congress is that, when it starts taking satisfaction that it has created some air to dilute pro-Modi wave, something or other comes to Modi's help. Lastly Gujarat Congress had created some air against Modi through the help of continuous campaign in traditional Congress supporting Gujarati mainstream print media. But then, on one fine day, the Supreme Court verdict on SIT report arrived in favor of Modi. After 'Satyamev Jayate' tweet, Modi sat on game-changer 'Sadbhavana fast' in Amdavad. And only in three days, he shifted the air completely in his favor, not only at home front, but nationally.
So, Gujarat Congress has restarted its campaign from zero now, and the exercise is on.