Sindhi food in Ahmedabad
November 28, 2019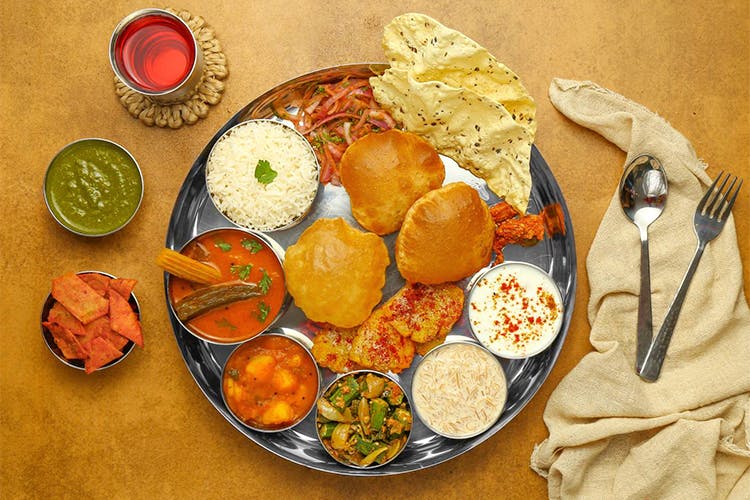 By Disha Teckchandani
Ahmedabad: Sindhi cuisine is from Sindh province of Pakistan, which is native place of Sindhi community. Sindhi food involves both vegetarian and non-vegetarian items. After partition of India and Pakistan in 1947, many people of Sindh migrated to India. Finding that many people in India are vegetarian, the Sindhi people eventually gave twist and turn to non-vegetarian dishes and tried to convert them into vegetarian dishes. There is a myth that Sindhi people try to snack on "Pappad" only, but it's incorrect". Sindhi food offers varieties of dishes which are healthy, nutritious and tasty. Some of the famous Sindhi vegetarian food items, you can try are:-
Daal- Pakwaan
Sindhi food is incomplete without Daal-Pakwaan. It's a famous breakfast dish which is made up of Moong Daal including tomato's and onion, and Pakwaan is made up of maida which is deep fry in oil . It is known as soul of Sindhi cuisine and it is the favorite breakfast food item of every Sindhi household.
Dodho- Chuteny
Juwar Jo Dodho – It's a gluten free bread for Sindhi's , it is flavored with green chilies and fenugreek seeds and the green spicy chutney complement's Dodho very well. It give nostalgia to every 20's child . It was used to cook by our grandmother or by our mother in earlier day's , but now a day's many Sindhi children are not aware of this dish . it's slowly disappearing from our culture.
Sai- Bhaji
It's another famous and nutritious dish . It is made up of chickpea some tomato's onion and spinach it's taste healthy and nutritious , usually kid's don't like green vegetable's but due to its good taste kid's love to have more and more of this curry . Sai- Bhaji usually complements with roti and rice.
Sindhi Kadhi
Sindhi Kadhi is a famous dish which made Sindhi cuisine famous worldwide . It's quite different from other curry , it is made up of besan which is Gram Flour and it also contain some of the good veggies like potato some beans , okra , tomato's etc . It's highly suggest that everybody eat this not only for it's good taste but also for it's nutritious value . This dish is considered as auspicious and it's definitely served once during the various ceremonies .
Koki
It is a popular Sindhi breakfast item, Koki is a flatbread made up of wheat flour , finally chopped onion , chili's and coriander leaves. Koki is served with curd or pappad , it can also served with pickle or chai .
Thadal
It is a popular drink among Sindhi . it is made at time of summer or during the Shiv- Ratri it is usually made by our grandmother or mother , it keep our body hydrated during summer . It is like a syrup which is generally made of almond , fennel seed's , poppy seed's , black pepper and sugar . This syrup is usually drink with milk or water and its super healthy and delicious.
These are some of the Sindhi food items that are famous. Sindhi food is known for its well blend of flavor's and for its taste . Today Sindhis are situated in all the part's of the country. In Ahmedabad, they mostly live in Naroda , Sardarnagar and there are number of food stalls located here offering "Daal-Pakwaan" or "Hari Moong Daal Pakwan" and lot more . Not only Sindhi people but non-Sindhi also like to snack on these items.
Famous Ahmedabad based food author Anil Mulchandani says he likes various varieties of Sindhi food but his most favorite vegetarian Sindhi food item is "Koki" and "Daal-Pakwaan" which are well known Sindhi breakfast item which is loved by many people. Another famous Sindhi personality, BJP MLA Balram Thawani says his all time favorite Sindhi dishes are "Sai-Bhaji", "Bhugha Pulao", "Tomato Chutney" and "Masala Karela".
There are various restaurant is Ahmedabad which offer a good variety of Sindhi food:
Hojamalo
One of the most famous Sindhi restaurant in Bodakdev, Ahmedabad . It offer a great variety of Sindhi food ,like " Daal –Pakwaan" , " Bhee ke Tikki" , " Bread Roll's" and some " Chola Tikki" and here there is a option of ordering food online from Zomato or Swiggy . It also have a very good rating on all the food delivery app's it is one of the best restaurant which offer a good amount of Sindhi food .
Aroma Food Junction
It is one of the well known Sindhi food restaurant in Hansol , Ahmedabad it offer's a great variety of Sindhi food like "Daal Wok" , " Soya Aloo" , "Soya Aloo Bhindi" ," Soya Mani" and many other thing's , it's offer a good variety of food , for two people it cost around Rs 400 , so if you want to have a real Sindhi taste than this is a definitely a go to place to have a good Sindhi food and also there is a option to order from Zomato or from Swiggy , so if you want to have a good Sindhi food and the restaurant is far away so there is easy access available to order food online.
Sindhi Cuisine
As a name suggest , Sindhi Cuisine restaurant offer some of the great Sindhi vegetarian as well as non- vegetarian food like the famous " Sindhi Kadhi" , " Sai- Bhaji" the mouth watering "Bhugha Pulao" . This restaurant offer the full 3 course Sindhi meal , it is located in Chandkheda, for two people it's cost is around Rs 300 and price change's according to the option we choose either it is vegetarian or non vegetarian , so if you are craving for a good Sindhi food you should check the Sindhi cuisine .
Shikarpuri
Being a Sindhi who haven't heard about Shikarpuri ? , it's basically a sweet shop but it also offer a good amount of Sindhi food , it offer simple but delicious Sindhi food but its specialty is " Tosha" which you will not get in many other sweet shop in Ahmedabad.
Sindhi Bakery
It is one of the well known Sindhi bakery in Memco , it offer's the variety of Sindhi cookies and biscuits locally , they offer mouth watering Nan Khatai , Saata and many more, it's made fresh every day and it has a wonderful taste.
DeshGujarat